II. Jenő Hubay International Violin Competition
Venue:
Ádám Jenő Music School of Ferencváros (HU-1092 Budapest, Köztelek u. 8.)
Time:
17-19 November 2023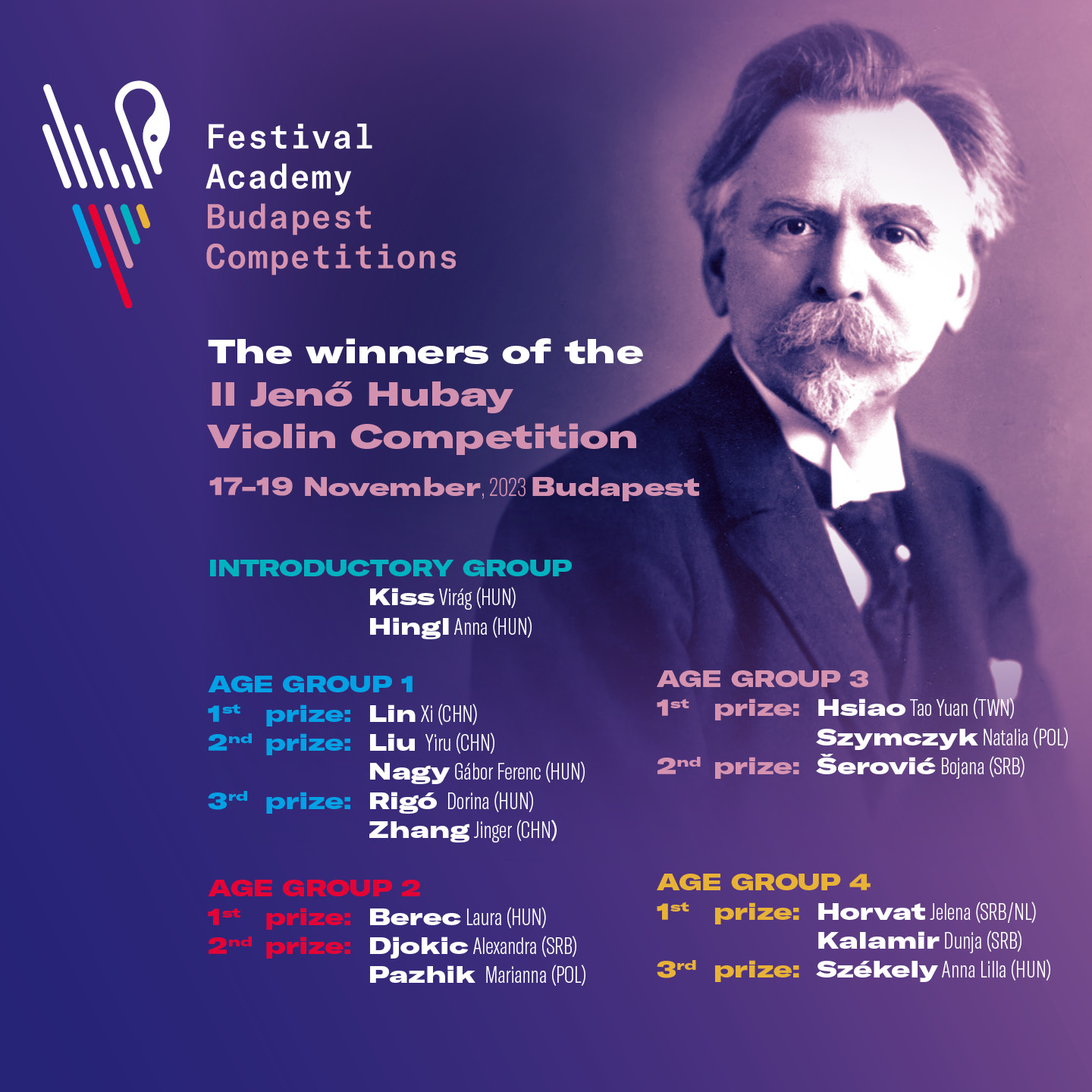 Age Group 1
1.  Lin Xi
2. Liu Yiru, Nagy Gábor
3. Rigó Dorina, Zhang Jinger
Age Group 2
1. Berec Laura
2. Marianna Pazhik, Aleksandra Djokic
Age Group 3
1. Tao-Yuan Hsiao, Natalia Szymczyk
2. Bojana Serovic
Age Group 4
1. Jelena Horvat, Dunja Kalamir
3. Székely Anna Lilla
The Jenő Hubay Violin Competition was established in 2020 by Katalin Kokas and Barnabás Kelemen for the youngest generation of Central-Eastern European violinists under 22 years of age. The competition is open for applicants from Hungary's neighbouring countries and the "Visegrád Four". The competition, organized in four age groups has one round for age group 1, two rounds for the others. Highly prestigious violinists or violin teachers will serve on the jury of each country of our region (Hungary will be represented by Eszter Perényi, professor emeritus of the Liszt Academy). Maxim Rysanov, world famous violist and conductor will act as president of the jury. This contest is the gateway to the Ilona Fehér International Violin Competition, which takes place every two years.
The finalists of the Hubay Competition are automatically inivited to the International Ilona Fehér Violin Competition. 
President of the Jury: Maxim Rysanov [UKR]
Jury members:
Bartłomiej Tełewiak [POL]
Jozef Kopelman [SVK]
Maria Spengler-Markovic [SRB]
Eszter Perényi [HUN]
Maxim Rysanov [UKR]
Prof. MgA. František Novotný [CZE]
Vlad Raceu [ROU]
Ziga Brank [SVN]
Goran Koncar [HRV]
Anke Schittenhelm [AUT]
I. Jenő Hubay Violin Competition
2021